INSTAX SQUARE SQ6
RRP £124.99
Back to top
INSTAX SQUARE SQ6
RRP £124.99
Blush Gold
Graphite Gray
Pearl White
RRP £124.99
Sure, the SQ6 is super stylish to look at, but what has this camera really nailed? Oodles of easy-to-use creative modes that'll bring out your most adventurous side every day.
Real life, beautifully squared
Hello, selfie mirror
The perfectly positioned selfie mirror on the front of the SQ6 may be small, but the wonders it delivers – wow.

It's showtime
We know a good thing when we see it – the SQ6 is all-out stunning. Showcasing a modern, minimal and clean design in Pearl White, Blush Gold or Graphite Grey. What's not to love?
Added oomph
Alongside Selfie Mode and Automatic Exposure Mode, there's also Macro and Landscape Modes making memories crystal clear, and dare we say it, even better than the moment you snapped.
Flex those creative muscles
Make every shot into your next masterpiece with the SQ6. Use the Double Exposure Mode to superimpose two images into one frame for a truly amazing mash-up photo. Or play with the Lighten and Darken Modes to adjust the exposure. How far will you push your everyday?
Flash, bang, colour
Yes, the instax SQ6 has a built-in, automatic flash. Yes, you can turn the flash on or off to capture the desired creative effect. Yes, the SQ6 also has three flash colour filters. Hang on a minute. Flash colour filters? Three? Yes.

Own the everyday
Simply use a tripod in the tripod mount to steady the shot, select the Self- Timer, and leap into the frame. After ten seconds – snap – your perfect moment, captured in an instant.
It's playtime.
Shoot outside the box, play around with your creativity and start pushing boundaries. Featuring the same high-end film and print tech as all our other Fujifilm products, our neatly framed SQUARE film is a perfectionist's dream. Come on, let's play.
Explore Film
Film
Film – Fujifilm Instant Colour Film "instax SQUARE" (separately available)
Film – Size 86mm x 72mm Picture Size 62mm x 62mm
Film Developing Time – Approximately 90 seconds (Varies depending on the ambient temperature)
Viewfinder
Inverted Galilean finder, 0.4 x, with target spot
Lens
Retractable lens, 2 components, 2 elements, f = 65.75 mm, 1:12.6
Focusing – Motor-driven 3-range switching:
Macro Mode (0.3 m – 0.5 m/1 ft. – 1.6 ft.)
Normal Mode (0.5 m – 2 m/1.6 ft – 6.6 ft.)
Landscape Mode (2 m/6.6 ft and beyond)

Exposure
Shutter Speed – Programmed electronic shutter release, 1.6 sec – 1/400 sec.
Exposure control – Automatic, Interlocking range (ISO 800) : LV 5 – LV 15.5,
Exposure compensation: ±2/3 EV

Flash
In Macro mode: Built-in, automatic electronic flash
Self-Timer LED Display
In a mode other than Macro mode: Flash on (unless you use "Flash off Mode")
Charging time: 0.2 sec – 7 sec (using a new battery), Flash charging indicator,
Effective flash lamp range: 0.3 m – 2.7 m/1 ft. – 8.9 ft.
Shooting Modes
Automatic Exposure, Selfie, Macro, Landscape, Double exposure, Lighten, Darken, Flash suppressing, Self Timer

Self-timer
Electronically controlled, approx. 10 second delay, Can be stopped mid-run
LED Display
Shooting modes: Automatic Exposure, Selfie, Macro, Landscape, Double exposure, Lighten, Darken, Flash suppressing, Self Timer

Battery Specs
Two CR2/DL CR2 lithium batteries
Capacity: Approximately 30 instax SQUARE 10-pack film packs with new CR2/DL CR2 lithium batteries

Dimensions
118.7 mm x 128.1 mm x 58.1 mm / 4.7 in. × 5.0 in. × 2.3 in. (not including protrusions)
393 g / 13.9 oz. (without battery, strap, and film pack)
Accessories
Two CR2/DL CR2 lithium batteries
Shoulder strap
Three strobe colour flash filters Instruction manual
Simulated images used.
Prints eject from INSTAX cameras/printers with the reverse side facing forward.
Get more from your INSTAX with
Scan your INSTAX photos
Collect your INSTAX photos digitally
Share your INSTAX photos & collections online
Download now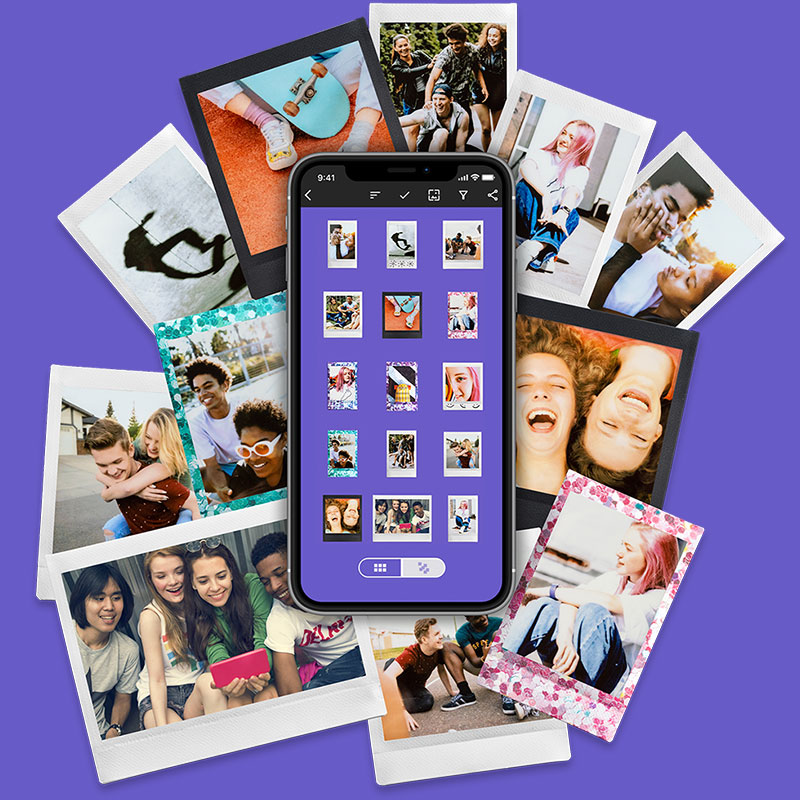 Back to top