INSTAX SQUARE SQ40
RRP £134.99
Promo Price £119.99
Back to top
INSTAX SQUARE SQ40
RRP £134.99
Promo Price £119.99
Black
RRP £134.99
Promo Price £119.99
Spark unique moments of creativity with the INSTAX SQUARE SQ40 - an eternally chic instant camera that looks as good as it shoots.
Watch the video
Style & Smile
Put yourself in the moment, as it happens, with the INSTAX SQUARE SQ40. Rotate the lens to Selfie mode, then flip the camera to frame yourself in the selfie mirror, and you're ready to capture the true you. Because let's face it, sometimes it's fun to be centre of attention.
Remarkably easy
It's all in the twist. Twist to turn on. Twist to enter Selfie mode. Twist to turn off. Nothing more complicated, nothing to stand in the way of capturing that shot before the moment passes. The INSTAX SQUARE SQ40 is wonderfully versatile, so it's always ready for all your creative endeavours.
Light work
See that? Beautifully exposed SQUARE prints, every time. Even the most discerning eye won't be able to fault the SQ40. Featuring automatic exposure, expressing your creativity couldn't be easier, just point and snap, and leave the SQUARE SQ40 to do the rest.
Timeless looks
Designed with the boldest in mind, the INSTAX SQUARE SQ40's square silhouette and classic black finish goes with any look. In fact, with its textured and sophisticated finish, and all the feel of analogue photography, we may even be bold enough to say it'll enhance your unique style.
It's playtime.
Shoot outside the box, play around with your creativity and start pushing boundaries. Featuring the same high-end film and print tech as all our other Fujifilm products, our neatly framed SQUARE film is a perfectionist's dream. Come on, let's play.
Explore Film
Film
Film – Fujifilm Instant Colour Film "instax SQUARE" (separately available)
Film – Size 86mm x 72mm Picture Size 62mm x 62mm
Film Developing Time – Approximately 90 seconds (Varies depending on the ambient temperature)
Viewfinder
Reverse Galilean finder, 0.4x, with target spot
Lens
2 components, 2 elements, f = 65.75 mm, 1:12.6

Exposure
Programmed electronic shutter 1/2 to 1/400 sec. Slow synchro for low light
Automatic, Lv 5.0 to 15.5 (ISO 800)

Flash
Constant firing flash (automatic light adjustment), recycle time: 7.5 seconds or less (when using new batteries), effective flash range: 0.3 to 2.2 m
Shooting Modes
Standard, Selfie mode.
Range: 0.3 m and beyond (use Selfie mode for 0.3 m to 0.5 m)

Battery Specs
Two lithium batteries (CR2)
Capacity: Approximately 30 instax SQUARE 10-pack film packs (under FUJIFILM test conditions)

Dimensions
134.2 mm × 120.2 mm × 60.5 mm
453 g (without batteries, strap, and film)
Simulated images used.
Prints eject from INSTAX cameras/printers with the reverse side facing forward.
Get more from your INSTAX with
Scan your INSTAX photos
Collect your INSTAX photos digitally
Share your INSTAX photos & collections online
Download now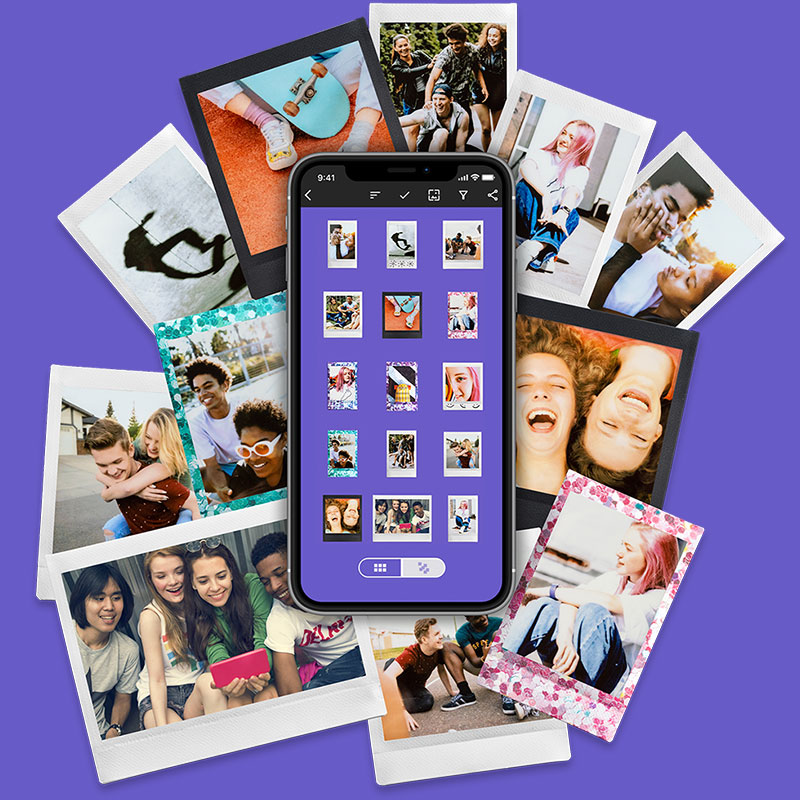 Back to top